Property Restoration Inc. is a Full Service Insurance approved Restoration Contractor. We work with Residential and Commercial owners to return your property to pre-loss condition. Our team of highly trained professionals is uniquely experienced in reconstruction, repair and rebuilding of private, commercial and industrial sites of any size. We provide a full range of reconstruction services dealing with all phases of restoration from start to finish. Utilizing state-of-the-art technologies, and carefully developed procedures, Property Restoration Inc. can efficiently and effectively respond to "Disasters", large and small.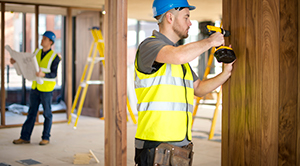 Fire, wind, mold, or water related damage to your home or commercial building can be overwhelming. Faced with the ensuing repairs can sometimes be just as traumatic. The goal of Property Restoration Inc. is to return a home or business to its pre-loss condition with a minimum of hassle by providing reliable, responsive, quality restoration services.
Selecting Property Restoration Inc. to do the job start to finish puts you ahead. Normal run of the mill Construction Companies do not have the experience we have to understand and know what really needs to be replaced. In the case of a fire, just because it looks good on the surface doesn't mean it doesn't need replacing. We understand those needs and concerns. One-Stop "Shopping". When you only have one company to deal with, you benefit from single source accountability.
When on site, our main goal is to take care of our customer's immediate needs and to mitigate further potential loss. Property Restoration Inc. has many years of industry experience in estimating, mitigating and repairing losses. Property Restoration Inc. approaches each project with a fair and consistent evaluation. We work with you and your Insurance Adjuster to make the process run smoothly. We use the newest technology and techniques. We ensure an accurate account of damages, coupled with a quicker settlement time which translates into getting the insured back on track to their pre-loss condition sooner.
24/7/365 Emergency Response within an hour, at Property Restoration Inc. you will have a live conversation and a plan as to when our crews will arrive. Our emergency team will be on the job any time of the day or night to secure the property, prevent further damage, and start you on the road to recovery.
Property Restoration Inc. is committed to delivering quality products and excellent customer service, professional craftsmanship and a clean job on time. We will listen to your needs and work with you to rebuild your ideas and wishes.
Property Restoration Inc. technicians are Certified. This enables us to deal with all types of insurance mitigation and restoration, from a one-family residential loss to a multimillion-dollar commercial high-rise building.
Do not let the insurance carrier tell you who you can have repair your property…. We are qualified and have worked with all the carriers. It is just easier for them to refer in the National Guys not the BEST Guys!
Don't Wait Call Us NOW
Call or Contact Us Online for an estimate on Reconstruction Services. Property Restoration Inc. works with all insurance carriers… do not let the insurance carrier tell you who you can have in your home…this is your choice and obligation to bring in a reputable company.